Cavea
Multipurpose "cage" sports CAVEA was developed based on years of experience and knowledge from the construction of playgrounds and sport playgrounds in the cities, especially in large and densely populated areas, which have their certain specifics, such as the high level of stress, vandalism, lack of space for location of recreational activities, industrial zones, etc.
Caged sports CAVEA is bounded by 4 m high fence with silencers for noise. Sports is variable both in terms of size and in terms of equipment. Standard equipment are two goals 2,5 x 2,5 m, two basketball baskets and clamping elements for placement net for tennis / netball and volleyball / badminton.
Caged sports CAVEA can be successfully incorporated into any type of urban development, where in addition to its immunity applies especially its simple and industrial visage. With superior resistance it's suitable for placement in locations with problematic status of socially excluded areas.
The versatility of this type of sport is the possibility of placement in other type of environment than it's usually done. It allows the use of small areas at traffic routes, it can be incorporated into difficult to use plein spaces in industrial zones.
Another advantage as a testament to its versatility is a transparent system visage. Thanks to use of metal fencing, although bulky and completely closed, playground becomes almost transparent. It communicates well with the surrounding greenery, which gives cage the best camouflage. Therefore, it is intrusive element in its surroundings. It fits well not only in the stress areas, but also in the areas with modern architecture tone, to urban green areas and housing development.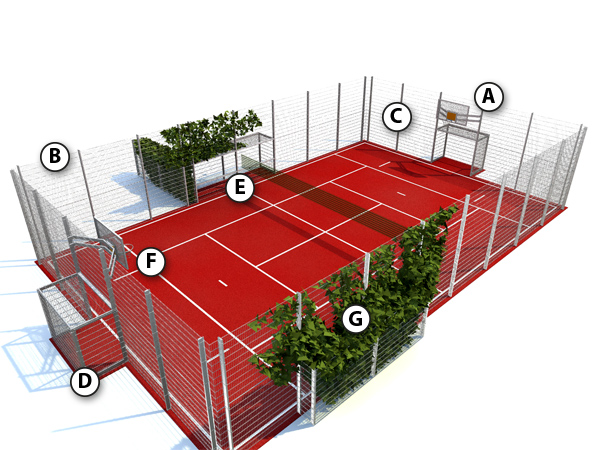 bearing steel fence uprights, goals and hanging baskets
4 m high fence of welded parts of steel rods, horizontally reinforced and doubled
special handles from steel and polymer for anchoring to the supporting fence uprights
steel goals 2.5 x 2.5 m with lockable entrance gate
clamping elements for quick and easy fastening nets for volleyball, tennis, netball
steel structured baskets for basketball
the possibility of supplementing cage with "vistarions" for climbing plants, concrete walls, tennis, etc.
Materials
The support uprights, frame of goals and discharge hanging baskets made of "jakl" of structural steel. Stainless steel fasteners. Fencing and gates filling of welded parts of steel rods, horizontally reinforced and doubled. Anchoring of welded elements to the support pillars is accomplished through special grips of steel and polymer.
Steel basketball cage, deliberate plate of high molecular weight polyethylene, stainless steel hoop with chain mesh. Clamping elements for applying of net are made of steel parts. Anchoring the posts is made up of concrete pouring concrete footings into the chalice; foot is the subgrade gravel pad. The metal frame is equipped with hot-dip galvanizing. All materials used for surface treatment correspond both hygiene and environmental requirements.
Safety
CAVEA meets the requirements of ČSN EN 1176 «Playgrounds» and is in accordance with standard EN 15312 «Publicly accessible multi-sports playgrounds»
Dimensions
Any size sports
goals - 2.5m x 2.5m
basketball basket 1.8m x 1.05m according to FIBA rules
Possible subsoil variants
asphalt, concrete, compacted siftings
For more information or sending our catalog, please contact us.